by botherer on Sep.01, 2004, under The Rest
Bank holiday Mondays tend to slide past me like a shiny thing on a surface offering little friction that runs alonside where I am. The only difference between they and any other Monday is that on these days everyone else is getting up at 11am and sitting around in their pants until about 3pm, when they decide to go out, but then don't, as well.
But of course this isn't the real purpose of the BHM, as I now affectionately call it. BHM's are days for the whole family to pile into a car and drive to a National Trust building, containing a remarkable collection of purple ropes and "STAFF ONLY" signs on any door that looks as if it might lead anywhere vaguely interesting, and thus risk killing National Trust visitors to death. They must be very good places for people who have been told by the doctor to "take things easy for a bit, and don't do anything that will excite you". In fact, where you see those signs saying, "WARNING: Not suitable for those with heart conditions or of a nervous disposition", there should always be a National Trust booklet available so that people perpetually in the position of being nervious don't feel left out.
So it was on BHM (it'll catch on) that Alec, Becky, Dan, Adam and myself squeezed into my tiny little Punto-o-rubbish and drove to SUPER MONKEY WORLD II: THE MONKEY MENACE. The purpose of our visit: to see Alec and Becky's long-lost bastard monkey son.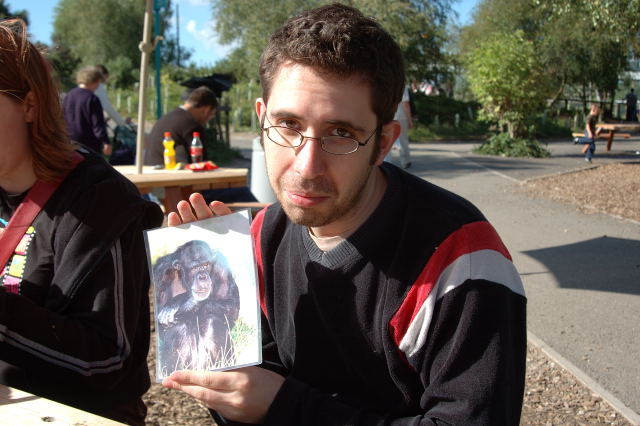 MONKEY KONG III: A TRIBUTE (clever joke for one person there) is an excellent place. It isn't a horrid zoo, but an enormous sanctuary for mistreated apes and monkeys. Mistreated before they got there. It's not some sick place where they take monkeys and mistreat them for the crowd's entertainment. You weirdo. So it's doing great things, all in large enclosures with few animals in each. Which while being brilliant, does mean that it's incredibly hard to actually see anything.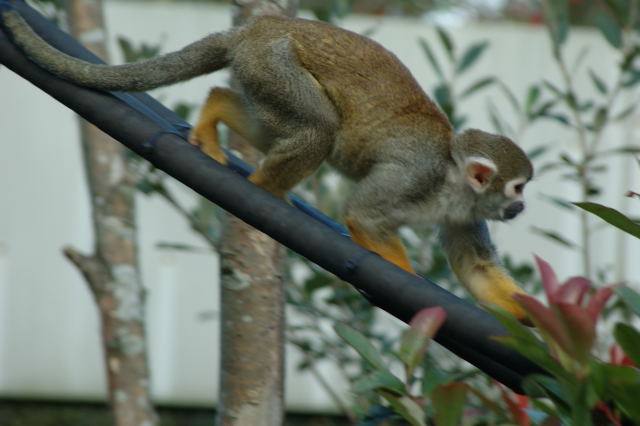 Thanks to Adam's supermagic camera and his supermagic photography skills, here's some proof that there were actual real life monkeys present.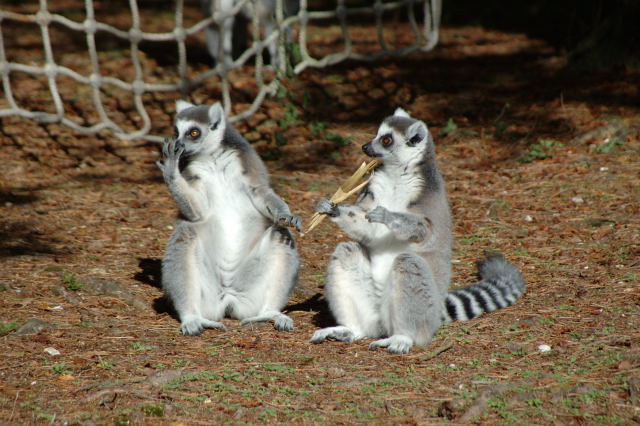 The lemurs are great. They're in a special wooded area, kept apart from the rest of the world by special woodland air-locks, where you have to close the door behind you before opening the one in front. Like on a spaceship. Except in the woods. And without the hissing noises. But after that, they're free to roam around at will, meaning they occasionally hop onto the path and kill a child.
I dared Adam to get a proper nature documentary photo of a lemur in mid-leap. They the beasts very kindly obliged, and about seven of them took it in turns to jump a gap above their sleepy area in front of us. Amazingly, he managed it, proving himself worthy of his previous job editing Some Camera Magazine, as I believe it was called. He failed to fix any PCs or complete any new first person shooters throughout the course of the visit, so I'm yet to be convinced if he's worthy of his current job editing PC Format. (I am really. Give me more work).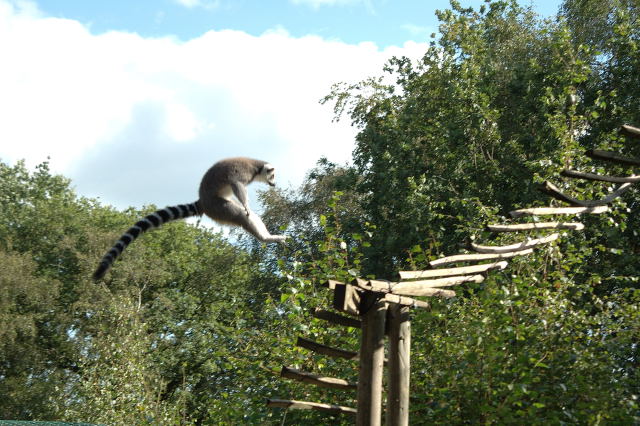 But the highlight of the day had to be lunch. Arriving hungry and car weary, we headed for the only eatery available. It smelled of school canteen, and offered a menu that looked as though it had been created by a rubbish aunt's memory of what fast food chains are like. We all ordered our MEGA MONKEY DOUBLE SKILLO BURGERS or something, and sat down outside to enjoy the delicious meaty goodness (apart from Alec, who is a vegetarian, and so ate some lettuce I expect). Until Becky pointed at Dan's half consumed burger, observing that it wasn't so much cooked, as not cooked.
And here it is.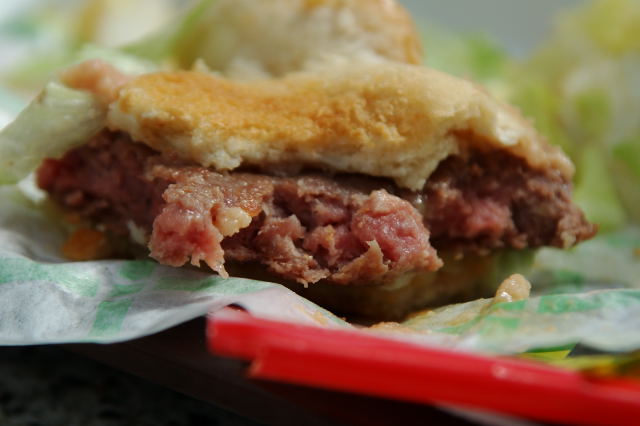 And this is why Dan's now dead.
I should probably write some sort of laboured comments about how rubbish fast food chains are, and link it all in nicely, but the truth is, just remembering the difficulty chewing and the leaden weight of the evil lunch in my stomach is making me feel a bit ill. I can still taste it.
Moral: When you visit MEGA MONKEY LAND ADVANCED, take a picnic. And some flowers for Dan's impromptu grave, by the Evilburger restaurant.