by John Walker on May.19, 2004, under The Rest
Today I finally made some use of this sunshine we appear to be having.
Fresh hair cut and purpled, I left my curtain encrusted hovel for exterior exposure, and lunch with Kieron and Jim in a pub 'garden'. This was followed by some wanton sitting on grass in the middle of the afternoon.
This feels right. Obviously, sitting around in the sunshine when everyone else is at work feels right – how can it be wrong? But I mean, this feels like the right way around for me at the moment. I allowed a brief glimmer of guilt to flash through me, knowing that others on my course were probably doing some sort of youth work paperwork rubbish, or writing journals, or somesuch worthy activity far more impressive than sitting in the park and talking about Thief. But then I remembered that I'd finished work at 4am this morning, and yet gotten up before 10. Work, see. Reviewing some rubbish RPG thing for Format. And then moreso – Wednesday is my day off! Because come Sunday, I'll be working from 9.30am until 9pm. Admittedly with a gap in the afternoon, but that shall be inevitably filled with writing journals. On a day that isn't my day off. This is the way my brain has always intended to work – late at night, with day time for goofing around.
I know Steve D will be groaning, slapping his forehead, and planning to slap mine in a couple of weeks (his 13 year old daughter Miriam has asked me to be her godfather at her baptism – very proud). But it's in moderation. 4am is exceptional. 2.30am is normal, and quite acceptable, thankyouverymuch.
That youth groups take place in the evenings seems ideal for this pattern, but that other people exist in the daytimes does not make for a helpful planning side to all this. Ever moreso, I find myself thinking in the direction of eschewing full time youth work once I'm qualified, and instead sticking to voluntary stuff, in order that I can continue my gratuitous lifestyle. And hopefully take on more work without fear of clashes with college, essays, journals, meetings, weekends away, having to stay overnight in Bristol half the week, and on and on and on and on and indeed on. Oh, you poor folks, you don't need to know this.
Lunch included the inevitable portion of Mocking John for Being a Christian. This is all done within the realms of friendly banter… I tell myself. I am an object of curiosity, for that at least. Anyway, this lead on to Jim's formation of an entirely new religion and deity, Horace the Endless Bear. In an act that may possibly conflict with my current faith, I have found myself pledging, in the event of surviving a nuclear holocaust, to promote this religion alone to the few that still live.
And finally, it became very important that I do this: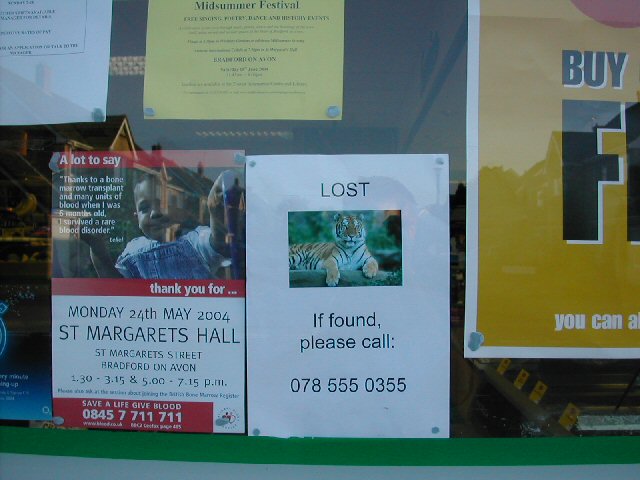 In the shop window of the Spar below my house.