by John Walker on Jan.18, 2012, under Rum Doings, The Rest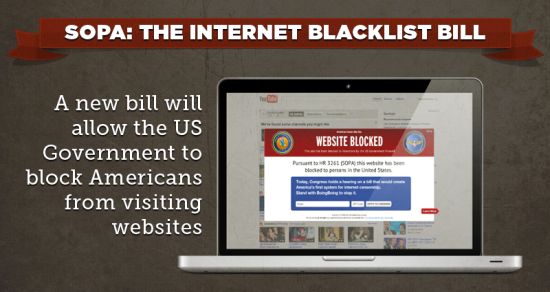 I've been bleating away on Twitter all day, probably to the horror of anyone who doesn't follow me via RPS or Rum Doings, and making my opinions on SOPA and PIPA well known. Rather than repeating the definitions of these Acts, and why they're the most dangerous infringements of free speech and a free internet imaginable, you can learn all that from here.
But there's something I want to comment on specifically, and it doesn't fit in a tweet. I've tried. Lots of times.
This line from Kotaku's missive on why they haven't blacked out their site as part of today's international protest sums part of it up for me:
"It's no wonder that an outfit like the League of Legends creators at Riot Games read that and worry that a livestream of a great LoL match could be found in violation of SOPA the moment someone starts singing the lyrics of a copyrighted song on it. Is that really the kind of stifling of the Internet the writers of SOPA and PIPA are seeking?"
Yes! Yes it is. That is precisely the internet they're seeking. It seems so outlandish that so many news outlets are phrasing it as if it's a reductio ad absurdum, throwing their hands up and saying, "This bill's so crazy it would lead to these wacky outcomes!" as if such a result is a parody of the poorly written nature of the bill.
This is to so frighteningly miss the point as to be all but helping those crafting such bills. By reducing the very intent of terrified industries – they who built their empires around plastic squares and discs that have since been rendered pointless – to a perceived exaggeration, something apparently so laughable as to parody the bills' intentions, is to ignore the reality of what we are facing.
The terrified industries, built up around an illusion of digital ideas having physical forms, are desperate. Like a dying wild animal, trapped in a corner, they are lashing out with their last strength, and they will do anything, go to any extent, to survive. But it doesn't matter how many children and grandmothers they sue, how many bands and singers they bankrupt and ring out to dry, how big their lies, nor how outrageous their political influence, the reaction is always the same: "They'll be banning us from singing in the shower next!"
Yes. They will. They are so desperate for control in a world that is increasingly recognising their irrelevance that they are attempting to shut down and dominate everything they can. To believe that the RIAA, BPI, etc would not charge you for humming as you drive if they could is to idiotically misunderstand the sheer bat-shit lunatic desperation we're dealing with here. Yes, ha ha, what a silly notion. But to think it any more silly than their attempts to sue the creators of the first mp3 players, or huge efforts to ban the home VCR, is to woefully miss the point. These are the same people who bullied the world into accepting ridiculous crippling region codes on DVDs, and are able to force manufacturers to not allow customers to skip their nonsensical threatening messages at the beginning of every legally purchased film. They are the people asking us to spy on our fellow cinema goers, and turn them in if we see them filming. They are the reason your HDMI cable is capable of stopping you from watching content they decide they don't want shown.
We're dealing with archaic industries that were built around the impossibility of that which is now possible. Their time is up, and they know it. But they are so massive, so enormously powerful, that they are going to do everything imaginable to defend their fortunes. And that's why we have SOPA and PIPA. They know it won't beat piracy, because it's immediately obvious to anyone with half a clue that it cannot. But it will give them power over the internet, that all history shows they will abuse to the most ludicrous degree. It will give them terrible control of our internet, which is presently the thing that terrifies them more than anything else: free.
The most insane thing is, they don't quite know what for. They just know that it's the means by which their business models are rendered pointless, and they know they currently can't control it. They're scared, so they're doing something. And if you think that's hyperbole, or plain paranoia, take the example of DRM.
DRM doesn't work. There's no argument about that at all. It is code that prevents a game from working properly, but only for those who bought a legitimate copy. Those who have pirated it will have the DRM disabled, and never encounter it. So it's software that makes games awkward for customers to enjoy. That's entirely what it does. But it's on almost every game, from almost every publisher. And what do they do when it is shown not to do anything? They make it even worse for legitimate customers, while of course not affecting pirates in any meaningful way. This is how we end up with Ubisoft's idiotic "always on" DRM, where legitimate customers must have a permanent internet connection constantly sending signals back and forth to and from Ubisoft, or the game switches itself off. Pirates don't have to have the internet on to play, and their copies work just fine. People who bought the game have a version so crippled that it's barely functional. Why is that? What's the logic behind it? There isn't one. There can't be one. It's so obviously ridiculous that no one even tries to defend it. Instead they scream about unevidenced, and usually entirely fictional, revenues lost to pirates, which is a confusing response to the question, "Why are you doing this when it doesn't stop piracy?" They're doing something because they're scared.
SOPA and PIPA are something because they're scared. And it's a really big something. One of the biggest, stupidest somethings ever seen. This is a something so big that people are looking at the Digital Millennium Copyright Act fondly – one of the most heinous corporate-bought acts of all time, and suddenly we're feeling nostalgic for it, because it at least offered safe harbour as it robbed the planet of its basic rights. From pure fear, and unimaginable amounts of money, SOPA and PIPA have been drafted and put forward by the entertainment industry, because they think it will at least give them a sense of control, a greased pole to grab onto as they continue their tumble into the pit. Whatever they don't like, whatever alternate business models that might spring up to rival them via it, whatever the next massive surge of sharing is born of, they'll be able to have it stopped at their demand. Yes, as they crush all innovation, they'll also crush their own potential future models of income. But don't forget these are the same bodies that fought with all their might to have the VCR banned – one of their biggest sources of revenue, then and in its many incarnations since.
So Kotaku, and just about everyone else, those outlandish wild fantasy directions you can see the wording of these acts leading toward? They're not proof that the acts are poorly worded – they're what the acts are intended to allow. And as you parody this, you make it easier and easier for people to ignore it, and those industry dreams to become our reality.
This is why I have stared in horror and disappointment today, as site after site who had been issuing editorials and declaring their disgust, failed to do something so simple as go dark for one day. "But we're news outlets, we report the news, not take part in protests," they all answered, as if their not being able to report the news for one day wasn't exactly the point. As if failing to serve their readers wasn't the very purpose of the protest, not a reason to scab their way out of it. The idea was to piss people off, let readers down, fail to be there in a useful form, because that is the future of every one of them if these acts get in. They literally won't be able to run as they do. They would be gone, and today was supposed to be about showing people what that would look like. But rather than risk the ad revenue, lose readers, or whatever other motivation kept them online, they chose to not be part of the news, but report the news, somewhat missing the irony that it's their own future they were supposed to be fighting for. They stayed up, and they said, "Aren't these acts silly! They'd let…" exactly what is going to happen, happen.
:PIPA, Rants, SOPA